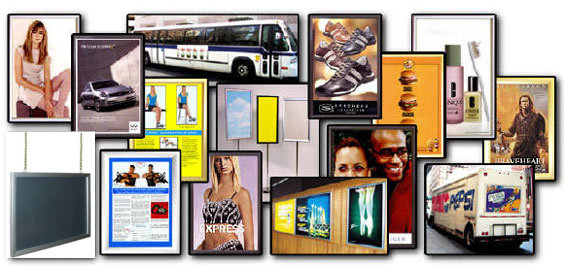 We are fully open!
We can make any of our frames custom sized, including our LED, Banner and Acrylic standoff frames. We offer outstanding customer service, our sales staff answer our phones and emails. And made in the USA!
Instant Quote & Order
Covid Safety Shields and Acrylic Stand off Frames
Acrylic Standoff frames, any size or shape, intricate or simple, 1 or 1,000 -lowest pricing!
Made by us in Chicago on our state of the art laser, email or call for pricing.
Single or Dual frame Bollard mount, for horseshoe bollards of any size or shape. We can make any graphic holding size you want, any color.
New SQUARE Mini Flip Frame
Square Mini Flip profile is only .60" wide, all 4 sides flip up. Slim stylish great looks!

Bring your message to life with our new Cloudlight LED Frames. Our stylish and convenient front-loading Flip-Up frames are now available as LED edge lit frames. Utilizing super bright LEDs that illuminate the entire surface of the acrylic, our edge-lit frames deliver a brilliant graphics display, uniform light distribution, and energy savings, and long life. Click on City photo for more info.
Beautiful Chicago skyline at night. Size: 54" x 109" less than 1" thick.
Any size, any color, 1 minimum. Low Cost. Best Quality. Made in Chicago.
We make really big frames