Acrylic Standoff frames, any size or shape, intricate or simple, 1 or 1,000 -lowest pricing!
Made by us in Chicago on our state of the art laser, email or call for pricing.
Single or Dual frame Bollard mount, for horseshoe bollards of any size or shape. We can make any graphic holding size you want, any color.
28x44 Windspring FlipUp Stand
Super durable outdoor use, wind resistant FlipUp frame for 28" x 44" graphics, double sided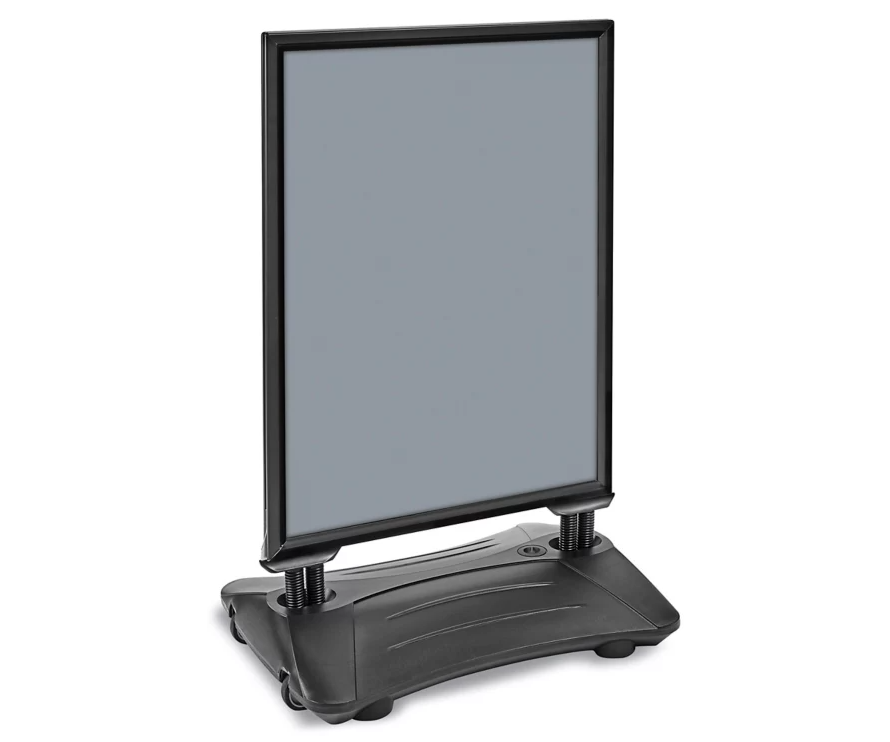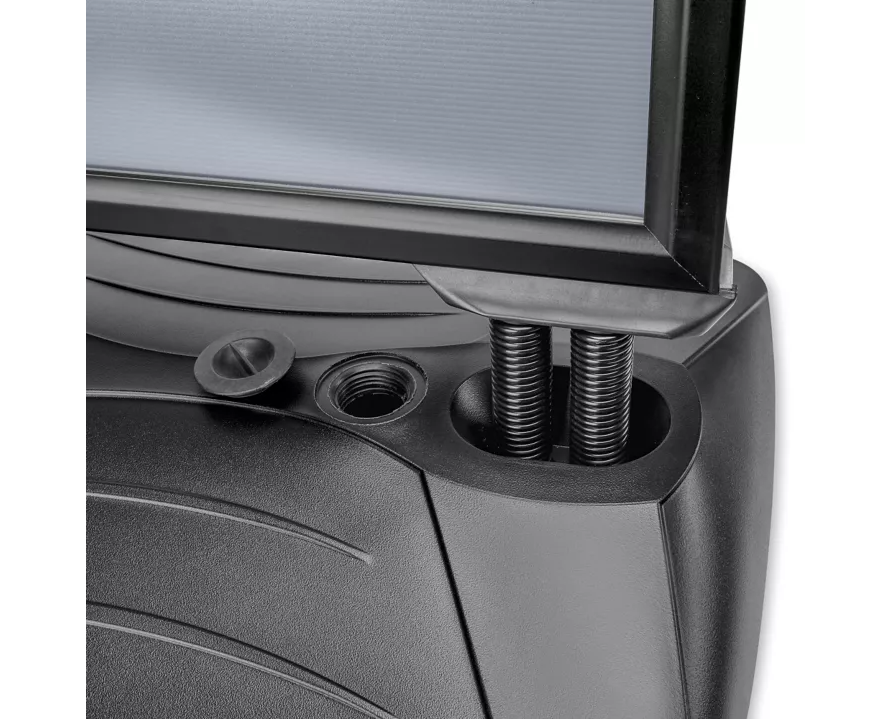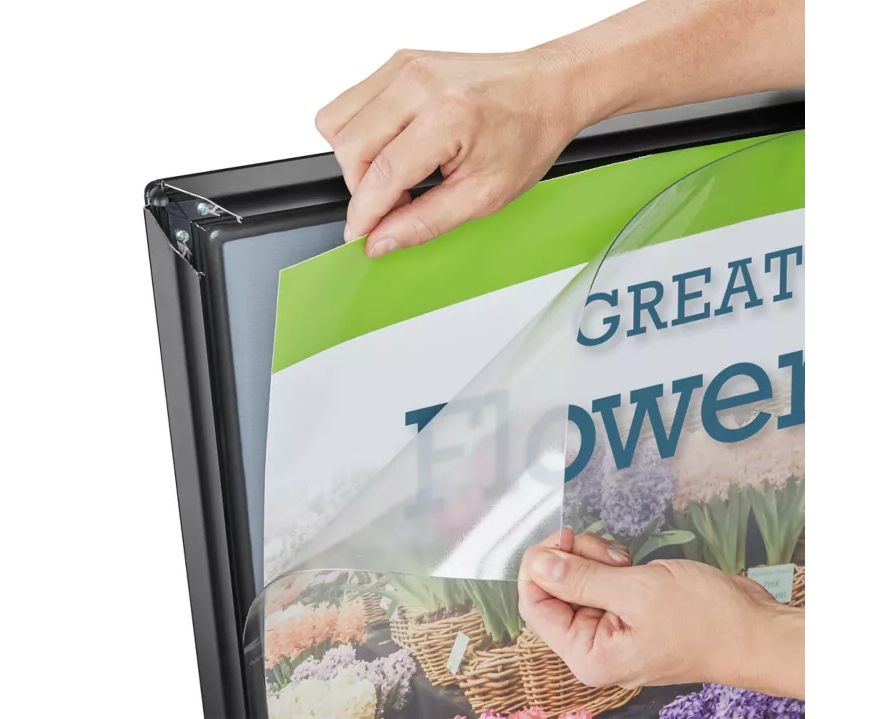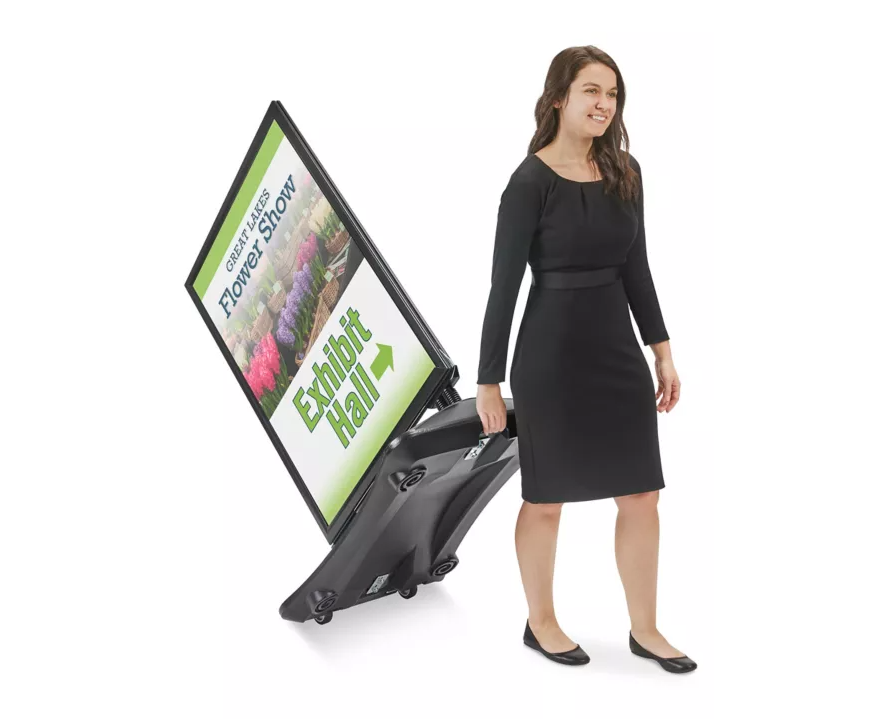 Double sided 28" x 44" graphic frame holder. Rounded corners for safety. Base can be filled with water or sand to keep your sign stand secure in high winds. Wheels to move around. Excellent street and sidewalk advertising. Easily change out graphics with FlipUp frame edges on both sides. Uses 2 single sided 28" x 44" sized graphics. 2 plastic covers included. Super durable, strong and attractive.
New SQUARE Mini Flip Frame
Alpina Fabric Frames for silicone edged fabrics
Fabric holding FlipUp frame, no silicone edges
Take any loose, wrinkled fabric graphic and transform it into a work of art! Our FlipUp frame easily stretches and holds the fabric in place, indoors or out. Any size, any choice of frame color, min 1.

Bring your message to life with our new Cloudlight LED Frames. Our stylish and convenient front-loading Flip-Up frames are now available as LED edge lit frames. Utilizing super bright LEDs that illuminate the entire surface of the acrylic, our edge-lit frames deliver a brilliant graphics display, uniform light distribution, and energy savings, and long life. Click on City photo for more info.
Beautiful Chicago skyline at night. Size: 54" x 109" less than 1" thick.
Any size, any color, 1 minimum. Low Cost. Best Quality. Made in Chicago.
We make really big frames
Flyer Downloads
Download our flyer in two formats: Generic and Standard. Generic does not have our information on the back so that you can print it out and put your own name on it to give to your clients, or send them in the mail. Standard (Alpina 32 pages) has our contact info on the back page.